Compiere ERP Connector to Salesforce
Compiere ERP Connector for Salesforce enables timely and accurate information for Sales and Finance by automating data updates between Compiere ERP and Salesforce. Bi-directional synchronization of key information between the two systems improves sales efficiencies and customer service, as well as accelerates opportunity-to-cash.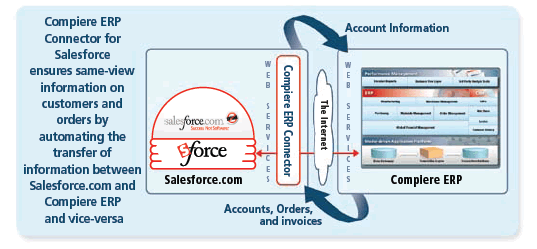 Automated Updates
Compiere ERP Connector for Salesforce streamlines lead tracking, sales order processing and related financial processes by eliminating redundant and error-prone manual data-entry. Compiere dynamic web services enable the integration between Compiere and Salesforce.com to allow for automated updates.
Bi-directional Synchronization
Compiere ERP Connector for Salesforce provides bi-directional synchronization of your Salesforce.com and Compiere ERP applications' business data. When you update Salesforce.com or Compiere ERP, the Connector transfers information from one system to the other seamlessly.
Complete Traceability
Compiere ERP Connector maintains the synchronization details on both Salesforce.com and Compiere ERP to ensure traceability and accountability. Account and transaction details are logged along with date and time of synchronization, whenever information is added or updated.
Easy Setup
Built with Compiere's unique and intuitive dynamic Web services model, Compiere ERP Connector for Salesforce is easy to setup. Using an intuitive, Web-based user interface, your Salesforce.com administrator can quickly set synchronization parameters to have the updates run automatically.
Availability
Compiere ERP Connector for Salesforce is an add-on option with Compiere Enterprise Edition. Please contact Consona at +1 (888) 826-6766 or info@aptean.com to discuss your business needs.