Standard Edition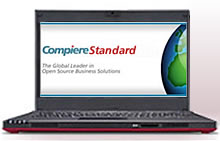 For value-conscious companies that want a stable and full-featured Compiere ERP solution that is backed by quality support offerings, including :
Access to Compiere Technical support services
Automated upgrade tools
Service Pack releases
Customize your Compiere Standard Edition below
Please select the number of subscribers, database option, and training that is right for you below.
Software
Buy Compiere Standard Edition by entering the number of Authorized Users in the quantity field below. An Authorized User includes all Users that access Compiere screens directly or access the Compiere database via Compiere API's or the Business View Layer.
Compiere Subscription
(1 year term)
Quantity
(Min. 10)
Units
Annual Price
Subtotal
Standard Edition

Authorized
Users
$400/User
Professional Edition

Authorized
Users
$750/User
Note: Add-on modules like Compiere Manufacturing and/or Compiere Warehouse Management are available only with Compiere Professional Edition.
Compiere Add-on Modules
(1 year term)
Quantity
Units
Annual Price
Subtotal
Manufacturing Module

Authorized
Users
$150/User
Warehouse Management Module

Warehouse
$7500/Warehouse
Database Options
Choose the Oracle database license that is right for you from the list below. Database Users must include all Authorized Compiere Users plus any other Users that access the Compiere database via 3rd party reporting tools or other programs.
Will you be using the Compiere Web Store functionality? Yes No
Note: this Oracle Database is an application-specific database for use only with Compiere
Database
Quantity
Units
Annual Price
Subtotal
Oracle Standard Edition One for Compiere, user license
Database
Users
(Min. 10)
$60/User/Year
Oracle Standard Edition for Compiere, user license
Database
Users
(Min. 10)
$120/User/Year
Oracle Standard Edition One for Compiere, processor license
Processors
(2 Max.)
$1950/Processor
Oracle Standard Edition for Compiere, processor license
Processors
(4 Max.)
$5800/Processor