InfoWorld Magazine Names Compiere Best of Open Source Software
World's most widely used open source ERP/CRM solution recognized as Best of Enterprise Resource Planning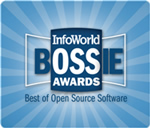 Redwood Shores, Calif. – Aug. 7, 2008 – Compiere, Inc., the global leader in open source business solutions, today announced that its ERP/CRM solution was named the Best of Enterprise Resource Planning in IDG's InfoWorld's 2008 Best of Open Source Software (Bossie) Awards. The annual Bossies recognize the best free and open source software the world has to offer businesses, IT professionals and productive individuals. InfoWorld's Test Center editors, analysts and reviewers selected 60 winners in eight categories covering business and productivity applications, development tools, middleware, networking, security and storage.
According to InfoWorld, Compiere "delivers a good, general-purpose ERP package along with basic CRM functionality. You get financials, procurement and inventory management, as well as general sales and good reporting. Compiere recently improved both security - now showing data-level granularity - and the user experience, with a browser-based UI and stronger search facilities ... if you're seeking an open source ERP alternative with broad functionality, look no further."
"We are extremely honored by this recognition from InfoWorld," said Don Klaiss, president and CEO of Compiere. "This award validates the positive changes our company and software have undergone during the past year, including our latest, most substantial product upgrade. Our ongoing commitment to delivering robust, flexible open source applications to companies looking to drive down the costs and complexities of ERP is what continues to fuel our aggressive global growth."
Earlier this week, Compiere released its most significant technology upgrade to-date in its 3.1 release, which contains more than 400 new business analysis, functional and technical enhancements. One of the more value-laden features is the new Business View Layer, which advances customers' ability to easily and securely analyze business data using their choice of third-party reporting and analysis tools. The company is beginning to move aggressively into the manufacturing and distribution marketplace, and plans added functionality for each in future product upgrades.
Last year, Compiere completed its transformation from an innovative open source project to a successful commercial open source company by expanding services, rolling out a new Web architecture and UI and securing new customers around the globe. Compiere applications are built on a model-driven application platform, making it easier for businesses to acquire, implement, extend and, without programming, customize ERP systems to fit their particular business needs. By offering its solutions through a commercial open source business model, Compiere enables customers to reap the benefits of ERP automation at a fraction of the cost of traditional proprietary software products.
About InfoWorld Media Group
InfoWorld Media Group helps IT solutions management choose the right technology, within the context of a cohesive strategy, for maximum business impact at their organizations. Rather than merely covering the enterprise technology market, InfoWorld identifies and promotes emerging technology segments that add unique value for the organizations that implement them, as well as the vendors that provide those solutions. Using an integrated communications approach including online, events, social media, research, and a continued investment in an independent Test Center, InfoWorld analysts and editors provide both hands-on analysis and evaluation, as well as expert commentary on issues surrounding emerging technologies and products. Visit InfoWorld at http://www.infoworld.com.
About Compiere, Inc.
With more than 1.4 million software downloads, Compiere, Inc., founded in 1999, delivers the world's most widely used open source enterprise resource planning (ERP) and customer relationship management (CRM) automation solutions. Compiere's solutions enable distribution, manufacturing, retail and professional services companies to gain competitive advantage through the automation of financial, distribution, sales and service processes. With applications built on a model-based development platform, Compiere provides unprecedented adaptability, rapid deployment and low cost of ownership. The company, which offers commercial backing, support and services to its global network of authorized partners operating in more than 25 countries, is privately held and headquartered in Redwood Shores, Calif. For more information, please visit www.compiere.com.